What you need
- Post its
- Paper
- Markers
- A laptop with Keynote or Powerpoint installed
- Cardboards for physical prototyping
Time
Between three and five days.
Team
This method works best with diverse teams. Don't be afraid to include non-creatives and even management staff.
This methodology became very popular after Google Venture came out with a simple visualisation and step by step guide for this practice.
It's recommended for projects that need a big amount of concentration and focus in a short period. The process is designed to last between three and five days. It will take your team from research to prototyping, completing all the phases of the projects before launch.
The prototyping and validation part is crucial, as this method proposes to test your ideas with users before building the actual product/service. In that way, you can save money, resources and avoid group frustrations.
Typical projects for this method: web design, new services/products and app design.
Design sprints have four different stages; Research, Ideation, Prototyping and Validation. These steps are typically distributed along days like this:
Monday: Research
Tuesday & Wednesday: Ideation
Thursday: Prototyping
Friday: Validation
Another shorter version of this would be:
Monday: Research
Tuesday: Ideation & prototyping
Wednesday: Validation
The design sprint is deliberated intensely. It comes from the assumption that a short but focused process will produce better results than a longer one.
Always remember to start your project with a clear goal. Define what is the project about and what would success mean for yours. Use our step by step guide for it.
Secure your first day for research. Before you start ideating, get a better overview of:
- What the competitors are already doing
- Look at data for defining assumptions
- Compile users' testimonials (you can do this by organising user interviews and surveys)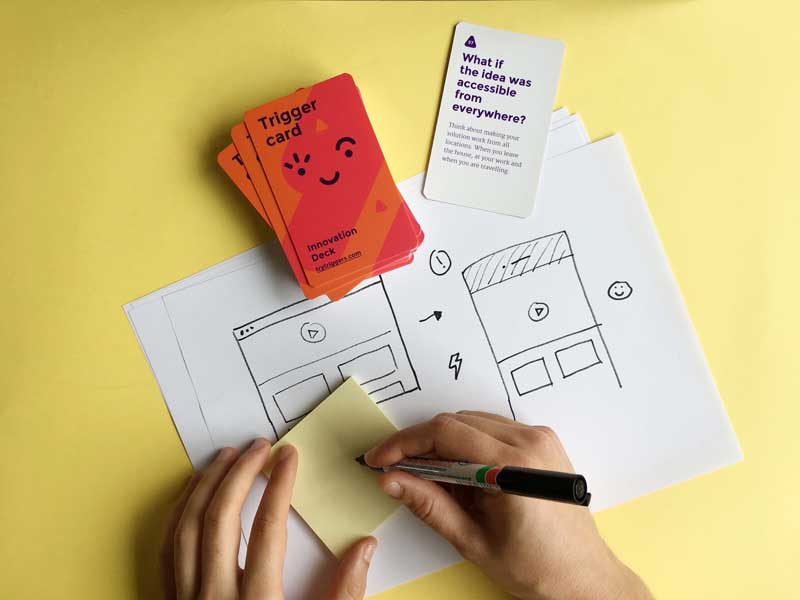 Once you have cleared out goals and research is done, it's time to ideate. The basic rule for design sprints is "more sketches, fewer words". We recommend starting ideating individually first and then in small groups.
Follow these steps:
1. Give each member some paper, pen and a bunch of Triggers cards (we recommend to use User-Centric and Innovation Deck for this method).
2. Each participant will have from 20 to 4o minutes to come up with as many ideas as they can. Encourage them to sketch instead of write. Using Triggers Cards, let them explore different paths for solving the challenge you are facing.
3. Group participants in small groups of 2-4 people. Let them share their sketches, explain their ideas and get to conclusions. Make two piles with the designs produced: 1) Interesting 2) Not attractive.
4. Use the Interesting pile to discuss how would the group improve the idea. Build on each other's ideas and try to listen actively to everyone.
5. It's time for developing the idea(s) further. Let each to choose one idea. Give the participants another 20-40 minutes each to evolve the ideas using Triggers Cards.
6. Get people back to their groups to share, discuss and decide on the final ideas they'll select. Organise a definitive "Interesting" and "Not attractive" pile.
7. Do a final check on the ideas using the Landing Cards included in your deck. More information about how to use them here.
At the end of the previous session, you should have a couple of ideas you want to test. This part of the process is dedicated to creating very simple prototypes of your ideas.
You can use Sketch, Keynote or Powerpoint to make digital prototypes, or you can just use paper and pen for a physical one.
Remember that the goal of making a prototype is not to create the final product, but to make users understand what you are trying to make.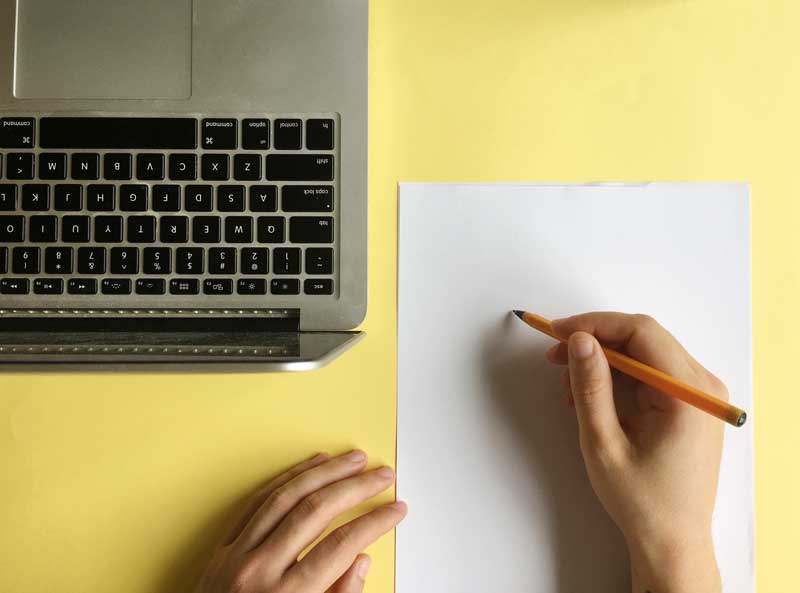 Ask people to use your prototype. Take notes, ask them how it felt, what they would improve, delete or add. If you produced different prototypes from various ideas, see which ones made the cut and which ones got the best feedback.
Use these decks in your design sprints